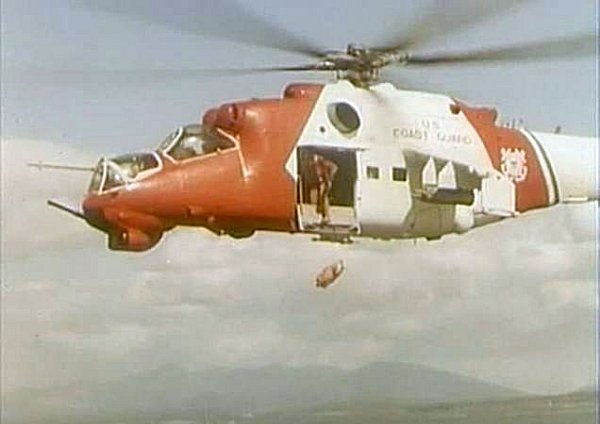 This Mi-24 was painted in U.S Coast Guard scheme to fulfill the role of an American Search and Rescue (SAR) helicopter in the Russian film "Charged with Death" (Zarjazhennye smert'ju) , it appeared some time after filming during public days.

In 1991, as the Soviet Union declined, relations with the United States improved. It is in this context that the film "Charged with Death" comes out in Russia. The scenario tells the story of traffickers hunted by the Russian Navy, in collaboration with the US Coast Guard.

If it happens that western aircrafts wear of the communist or middle-east block style schemes, such as the "Aggressors" of the Naval Fighter Weapons School (Top Gun) in the US Navy, or the US Air Force's "Aggressor Squadrons."
It is much less common to see Russian aircrafts in American colors, especially when it's a Mil Mi-24 (attack helicopter) which plays the role of a rescue helicopter.

However, it should be noted that the decoration of the "U.S Coast Guard" type which has been applied to it respects the original scheme in the smallest detail, notably the faithful insignia of the U.S coast guards.
The only breach would be the bands bordering the American star which are a little too long, this detail is obviously included in the decals.

1/72 : 6,00 EUR (In stock)
1/48 : 8,00 EUR (In stock)
- (Free shipment from 50,00EUR)



/!\ NOTICE :

If you have problems with cart (only one item in cart),
I recommend to accept or adjust the "cookies" on the "cart page" (- see an example -)
or join your order by Email to get a paypal request


Information : The orders will be dispatched from 5th October
Website is currently closed (next open session : from 25th September till 3rd October 2021) (infos ?)


- This set 1/72 consists of :

- 1 small decals sheet
- 1 A4 colored page of instructions (front / back).
- This set 1/48 consists of :

- 1 small decals sheet
- 1 A4 colored page of instructions (front / back).