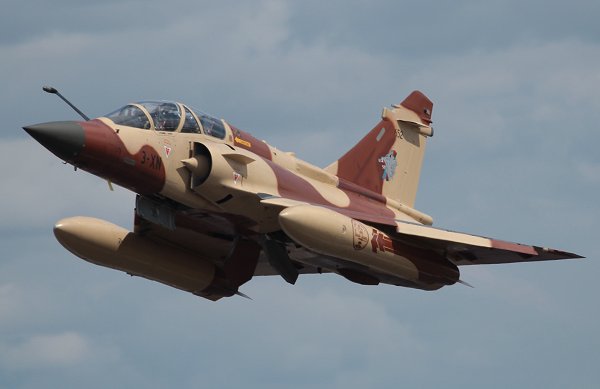 On 3rd march 2017, to commemorate the 30th anniversary of second raid on Ouadi Doum, a ceremony took part on the airbase 133 of Nancy-Ochey. The Mirage 2000D #652 from EC 3/3 "Ardennes" was painted in "Vanilla-Chocolate" camouflage same as the one wear by the Jaguar during the raid.

During summer 2017, this Mirage 2000 was used by the "Couteau Delta" Tactical display team who took part to several airshows in Europe.

---
First and second raids on Ouadi-Doum :
16th February 1986 – First raid on Ouadi Doum :
In 1986, while Libya, already in place in northern Chad, progress towards the south held by the Chadian government allied to France. A first raid on the Libyan airbase of Ouadi Doum, located in northern Chad is prepared. Jaguars and Mirage F-1Cs based in Bangui destroy the runway of Ouadi Doum in a quick attack.

In retaliation, the next day General Kadhafi, president of Libya sends a Tupolev TU-22 to bomb the base of N'Djamena from the base of Aouzou in the extreme north of Chad. The runway is damaged but repaired within a few hours.
The Tupolev TU-22 suffering from technical problems during his return, was lost before joining the base of Aouzou.

6 & 7 Janvier 1987 – Second raid on Ouadi Doum :
As the Chadian forces regain ground in the south of the country, Libya hardened its strikes. A second raid against the radar installations of Ouadi Doum is prepared.

On January 6, four Jaguars from EC 3/3 escorted by Mirage F-1s took off from the N'Djamena base to destroy the radar on Ouadi Doum, but with no echo, they returned to the base.

On January 7, a second attempt was made, a Atlantic from French navy turned to activate the radars, after a while the trap was running and the Jaguars took off to Ouadi Doum still escorted by Mirage F- 1s.
Two Mirage F-1CRs serve as bait to trigger the alert, Jaguars arriving at low altitude, catch the echo of the "Flat-face" radar, The Jaguar A100 fires its missile Martel, it goes straight to the goal . The Jaguars and their escort return to the base.

A Mig-23 is sent to intercept the Mirage F-1CRs, but as they go downhill at high speed, it can't catch them, so it abandoned the pursuit.

1/72 : 8,00 EUR (In stock)
1/48 : 11,00 EUR (In stock)
- (Free shipment from 50,00EUR)


/!\ NOTICE :

If you have problems with cart (only one item in cart),
I recommend to accept or adjust the "cookies" on the "cart page" (- see an example -)
or join your order by Email to get a paypal request



Information for international shipments - some destinations remain closed (infos ?)
Website closed (next open sessions : from 29th August till 6th September 2020) (infos ?)


- This set 1/72 consists of :

- 1 decals sheet
- 1 A4 colored page of instructions (front / back).
- This set 1/48 consists of :

- 1 decals sheet
- 1 A4 colored page of instructions (front / back).
Thanks to Mr Régis Rocca, original author of this scheme.