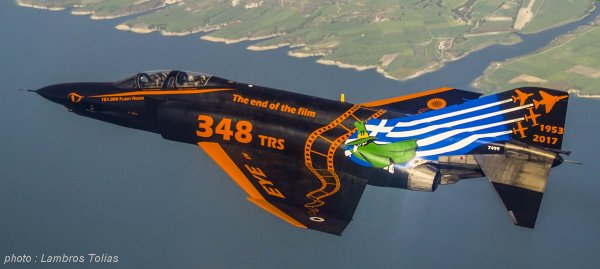 The 5th May 2017, on Larissa airbase was last day of flight for the greek recce Phantoms, also it was the day of disbandment of the 348MTA (Tactical Reconnaissance Squadron).

The RF-4E phantom II serial 69-7499 was specially black painted the event, it received squadron colors, the "spook", a film along the wings and fuselage and the phrase :
"The end of the film" as well as the silhouettes of historic aircrafts flown by the 348MTA on tail and underside, (the F-84G, RT-33A, RF-84F and RF-4E).

It's important to note that the (69-7499) is an Ex-Luftwaffe RF-4E, who was already black painted in 1994 for the disbandment of AG-52, the closure of Lack AB (in northern Germany) and for the retirement of RF-4E in germany, it was numbered 35+52.

---
History of 348MTA :

The 348MTA was created in 1953 on Eleusis AB on north-west from Athens, flown with F-84G specially equiped with cameras, it moved to Larissa on 1954, and never moved again.
From 1955, the F-84G were replaced by RT-33A for few years before been transfered to french air force between 1956 et 1957 to be replaced by RF-84F.

The RF-4E Phantom arrived in 1978, and progressively replaced the RF-84F who flown until 1987. Between 1993 and 1994, the Luftwaffe delivered 27 of their RF-4E to Greece, all will be deployed on Larissa by the 348MTA (several for parts).

From 2003, the electronic reconnaissance was integrated to 348MTA, and few RF-4E Phantom were equiped with ASTAC pod.

Beyong the military reconnaissance and intelligence missions, the greek RF-4E flown for public utilities like the photographic missions over the wild fires.

1/72 : 11,00 EUR (In stock)
1/48 : 14,00 EUR (In stock)
- (Free shipment from 50,00EUR)



/!\ NOTICE :

If you have problems with cart (only one item in cart),
I recommend to accept or adjust the "cookies" on the "cart page" (- see an example -)
or join your order by Email to get a paypal request


Information : The orders will be dispatched on 6th January
Website is currently closed (reopen on March/April 2023)


- This set 1/72 consists of :

- 3 decals sheets
- 2 colored pages of instructions (1x A4 + 1x A5) (front / back)
- 1 set of masks (for option : flag by paint).
- This set 1/48 consists of :

- 4 decals sheets
- 2 colored pages of instructions (1x A4 + 1x A5) (front / back)
- 1 set of masks (for option : flag by paint).