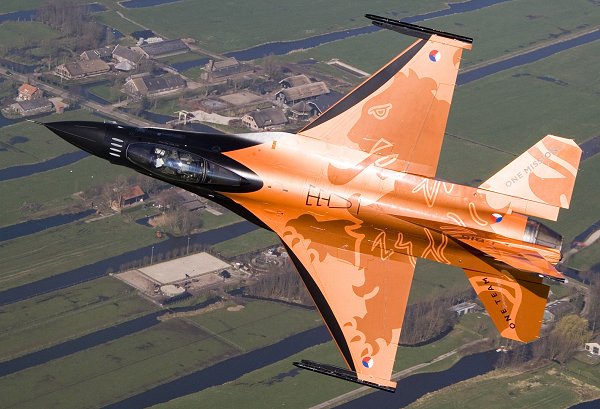 To continue the continuous lineage of colourful of Dutch demo F-16s, the J-015 demo 2009 received a magnificent scheme consisted of Black, pearl Orange and pearl Red the whole forming a lion on bottom and the top sides of the aircraft.
The dynamic show of this Falcon has to envy nothing its decoration but it is not supplied with decals.

screen-printed decals (classic decals / no-ALPS) declined on two scales.

- - - N E W - - -
Paints sets "Pearl metallic Orange" (MRP-207 & MRP-206) has been release by Mr.Paint
(For airbrush only)
- Please found the lighter orange here : www.mrpaint.sk - MRP-207,
- and the darker orange (Lion) is available too : www.mrpaint.sk - MRP-206.

1/72 : 12,00 EUR (Sold out) Notify me if available again
1/48 : 15,00 EUR (Sold out) Notify me if available again
- (Free shipment from 50,00EUR)



/!\ NOTICE :

If you have problems with cart (only one item in cart),
I recommend to accept or adjust the "cookies" on the "cart page" (- see an example -)
or join your order by Email to get a paypal request

Information : The orders will be dispatched from 10th October

- This set 1/72 consists of :

- 2 decals sheets
- 1 A4 colored page of instructions (front / back)
- This set 1/48 consists of :

- 3 decals sheets
- 1 A4 colored page of instructions (front / back)