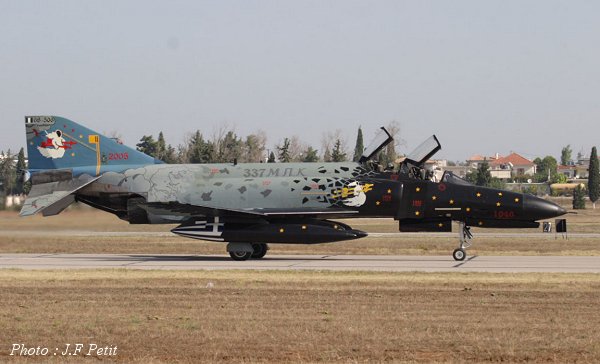 On 2005, for the retirement of lasts F-4E in Mira 337 Squadron, this Phantom received this wonderful special scheme.
this aircraft was seen during the big national Greek AF Airshow named "Archangel 2005" on Tanagra AB in middle of country, and on Malta Airshow few weeks after.
Today this Phantom still wear this scheme, it is shown as gate guard at 110CW on Larissa AB.
Many years before this Phantom flown in Indiana ANG in United-States.

This decals set is printed by screen-printing ("Classic decals") there are thin, strong, and the film is invible once applied.

1/72 : 14,00 EUR (Sold out) Notify me if available again
1/48 : 18,00 EUR (Sold out) Notify me if available again
- (Free shipment from 50,00EUR)



/!\ NOTICE :

If you have problems with cart (only one item in cart),
I recommend to accept or adjust the "cookies" on the "cart page" (- see an example -)
or join your order by Email to get a paypal request

Information : The orders will be dispatched from 10th October

- This set 1/72 consists of :

- 2 decals sheets
- 2 A4 colored pages of instructions (front / back)
- This set 1/48 consists of :

- 3 decals sheets
- 2 A4 colored pages of instructions (front / back)
Thanks to G. Athanasiadis