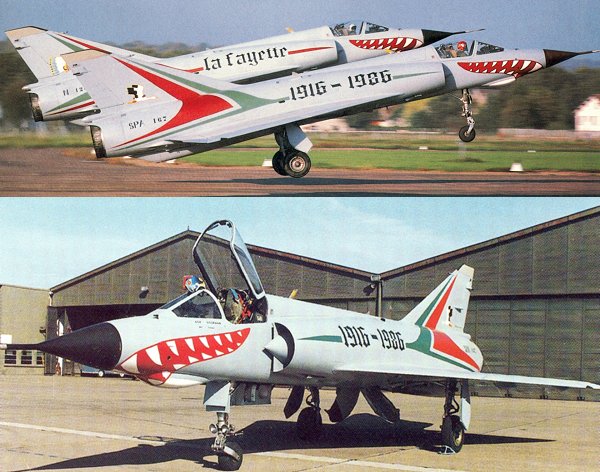 In 1985 and 1986, the "Regent Papa" team, flown with two Mirage IIIE from the EC2/4 "La Fayette" squadron displayed tactical demonstrations through airshows.

On October 4, 1986 at the Luxeuil airbase, the 4th wing celebrated the 150,000 flight hours on Mirage IIIE, while the fighter squadron 2/4 "La Fayette" celebrated its 70th anniversary.
For these events, the Mirage IIIE n°568 & 619 were specially painted with the colors of "La Fayette" and of the fourth wing. Piloted by Captain Chetboum and midshipman Gourhan, they flew the "Regent Papa" team during the weekend.

The 4th wing will be converted to Mirage 2000N two years later, another "Bravo" team will fly with the colors of "La Fayette" for its centenary in 2016, the "Ramex Delta" (Syhart 098).

1/72 : 8,00 EUR (In stock)
1/48 : 11,00 EUR (In stock)

- (Free shipment from 50,00EUR)



/!\ NOTICE :

If you have problems with cart (only one item in cart),
I recommend to accept or adjust the "cookies" on the "cart page" (- see an example -)
or join your order by Email to get a paypal request

Information : The orders are dispatched within the 7 days after the order.

- This set 1/72 consists of :

- 2 decals sheets (allowing to model two complete planes)
- 2 colored pages of instructions (1x A4 + 1x A5) (front / back)
- This set 1/48 consists of :

- 2 decals sheets (allowing to model two complete planes)
- 2 colored pages of instructions (1x A4 + 1x A5) (front / back)