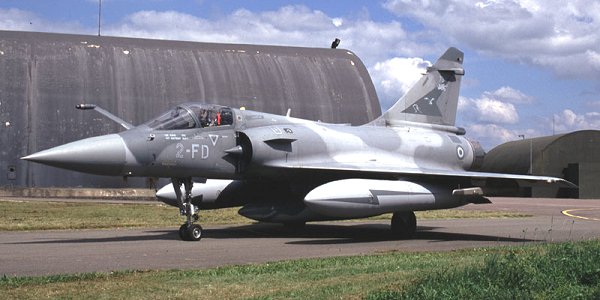 Story of the "low visibility" camouflage on N°70 :
In 1991, at the end of the War of the Golf, a Mirage 2000 is selected to test a new camouflage containing US colors (F.S: Federal Standard), it is on N°70 (5-OA at the time) that will come to apply this camouflage experiementale, but stencils remain traditional colors then the continuous apparatus its career in these colors.
Then that passes to the standard Mirage 2000-5F, the nose is changed as well as the section radar (standard colors), the apparatus then steals within the EC2/2 "Cote d'Ort" (becomes 2-FD) with US tone always, the turn of the nose Gris blue Standard, and markings high visibility.
In 2000, the EC2/2 will celebrate its 50 years, two apparatuses are paints especially:


1. -Mirage 2000-5F n°66 2-FN in "High Visibility" (ref : 48/72-013)
2. -Mirage 2000-5F n°70 2-FD in "Low Visibility" remained in US camouflage, the standard gray blue of the top of the nose is covered with a darker gray (that of the Mirage 2000D), and markings paints in styles "Low viz".

1/72 : 10,00 EUR (Sold out) Notify me if available again
1/48 : 13,00 EUR (Sold out) Notify me if available again

Website is currently closed (reopen on 30th September 2023)
- (Free shipment from 50,00EUR)



/!\ NOTICE :

If you have problems with cart (only one item in cart),
I recommend to accept or adjust the "cookies" on the "cart page" (- see an example -)
or join your order by Email to get a paypal request

Information : The orders will be dispatched from 10th October
Website is currently closed (reopen on 30th September 2023)