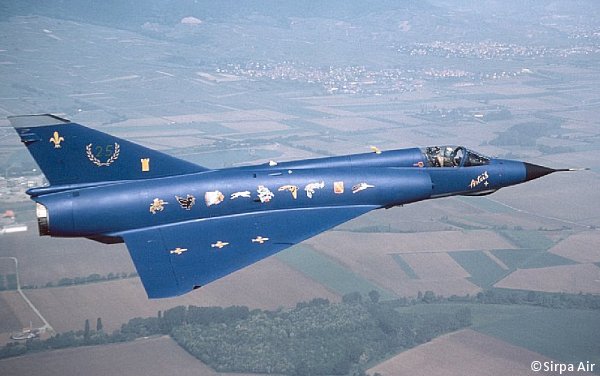 In 1990, the Mirage IIIE has been in service with the French Air Force for 25 years, no less than nine squadrons have used it or are still using it to this date, this is the case of the EC1/13 "Artois" based on the BA132 from Colmar-Meyenheim.

For the occasion, the Mirage IIIE n°426 13-HQ is painted entirely blue, bearing the colors of Artois and the insignias of the squadrons that have flown, or still flies on Mirage IIIE.

The last Mirage IIIE will be retired of service in the French Air Force by the EC3/3 "Ardennes" in Nancy in 1995.

1/72 : 7,00 EUR (In stock)
1/48 : 10,00 EUR (In stock)

- (Free shipment from 50,00EUR)



/!\ NOTICE :

If you have problems with cart (only one item in cart),
I recommend to accept or adjust the "cookies" on the "cart page" (- see an example -)
or join your order by Email to get a paypal request

Information : The orders are dispatched within the 7 days after the order.

- This set 1/72 consists of :

- 1 decals sheet
- 1 A4 colored page of instructions (front / back)
- This set 1/48 consists of :

- 1 decals sheet
- 1 A4 colored page of instructions (front / back)