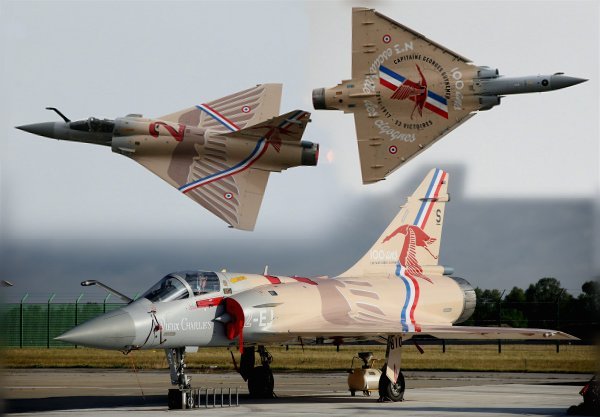 During summer 2017, was commemorated the centenary of the disappearance of Georges Guynemer one of the most famous aces of the French aviation; aged of 22 years, he died in action on September 11, 1917 aboard his plane Spad XIII over Belgian Flanders.

Flown in squadron number 3, now SPA3, known as "Escadrille des Cigognes" or "Stork Squadron" it has no less than 53 confirmed and 35 probable victories.
In 2017, the SPA3 is the first squadron of the EC 1/2 wing "Cigognes", flying with Mirage 2000-5F and based on the Luxeuil Saint-Sauveur BA116.

To commemorate the 100th anniversary of the death of Captain Georges Guynemer, the Mirage 2000-5F # 43 2-EJ received the colors of the Spads from Squadron No. 3 Storks, with the name of "Vieux Charles" that Guynemer gave to all his planes since his first victory on July 19, 1915 aboard Morane Saulnier type L "Vieux Charles" , the first of the name.

1/72 : 12,00 EUR (In stock)
1/48 : 15,00 EUR (In stock)
- (Free shipment from 50,00EUR)



/!\ NOTICE :

If you have problems with cart (only one item in cart),
I recommend to accept or adjust the "cookies" on the "cart page" (- see an example -)
or join your order by Email to get a paypal request


Information : The orders will be dispatched from 15th February
Website is currently closed (next open session : from 5th till 13th February 2022) (infos ?)


- This set 1/72 consists of :

- 2 decals sheets
- 1 A4 colored page of instructions (front / back).
- This set 1/48 consists of :

- 2 decals sheets
- 1 A4 colored page of instructions (front / back).
Thanks to Mr Régis Rocca, original author of this scheme.