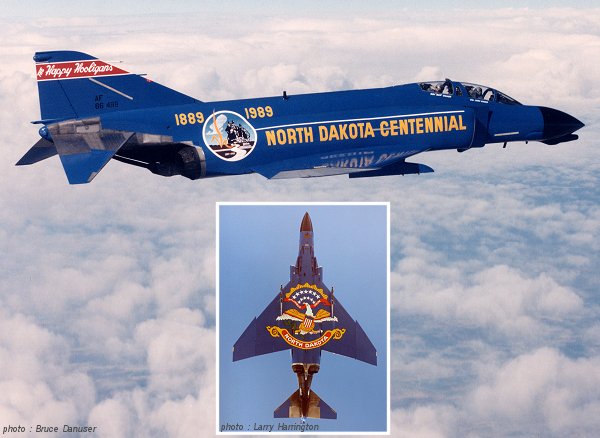 The North & South Dakota joined the Union on 2nd November 1889, and became the 39th & 40th States of United States of America,

The commemorate the centennial of North Dakota on 1989, an F-4D Phantom from the famous 178FIS "Happy Hooligans" of North Dakota Air National Guard based on Fargo (N.D), received a special scheme with colors of North Dakota flag, and the eagle applied very large below the aircraft.
During the event the North Dakota governor flown onboard of this Phantom.

Through thousands Phantoms flown during decades, this F-4D is the only one fully specially painted in U.S Air Force.

1/72 : 9,00 EUR (In stock)
1/48 : 12,00 EUR (In stock)
- (Free shipment from 50,00EUR)



/!\ NOTICE :

If you have problems with cart (only one item in cart),
I recommend to accept or adjust the "cookies" on the "cart page" (- see an example -)
or join your order by Email to get a paypal request


Information : The orders will be dispatched from 15th February
Website is currently closed (next open session : from 5th till 13th February 2022) (infos ?)


- This set 1/72 consists of :

- 1 decals sheet
- 1 A4 colored page of instructions (front / back).
- This set 1/48 consists of :

- 2 decals sheets (1 large + 1 small)
- 1 A4 colored page of instructions (front / back).